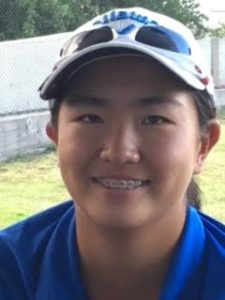 15 year old Rose Zhang, is ranked #3 in the Rolex AJGA Rankings. She is ranked #2 in the Junior Golf Scoreboard Ranking's and is the #1 Ranked player in the class of 2021. The talented Freshman who is a freshman at Pacific Academy in Irvine, California, has had an outstanding year competing on the AJGA Tour. Rose, won the ANA Junior Inspiration, that qualified her to play in the LPGA ANA Inspiration, where she not only played well, but made the cut and finished tied for 60th place with round's of 72-70-77-70 (289) +1. Rose was 14 when she played in the ANA.
She was selected to represent the United States in the Junior British Open at Carnoustie, Scotland, where she finished 13th, with round's of 70-76-69 (215). 13th, is significant, because she played against the boys and the girls from all nation's that compete in golf.
Rose's 2nd place finish at the Girls Junior PGA Championship qualified her for the 2018 Junior Ryder Cup that will be played in Paris, France. Rose shot 68-67-67-66 (268) -20 under par. Rose will travel to Paris, September 20th.
After 4 week's playing in Europe and the East Coast, Rose returned to Irvine and decided to play the Swinging Skirts AJGA Invitational. Although worn out from her previous 4 week's of competition, she shot 67-72-69 (208) to win and earn a spot in October's, LPGA Swinging Skirts event in Taiwan.
Tournament Results
RANK START DATE EVENT SCORES TOTAL
1 8/13/2018 Swinging Skirts AJGA Invitational 67-72-69 208
2 7/9/2018 Girls Junior PGA Championship 68-67-67-66 268
3 6//11/2018 Rolex Girls Junior Championship 71-70-72-75 288
T10 5/25/2018 Thunderbird International Junior 74-72-71 217
1 3/22/2018 ANA Junior Inspiration 71-69-69 209
T5 2/9/2018 Buick Shanshan Feng Girls Invitational 73-75-69 217
T15 1/12/2018 ANNIKA Invitational USA presented by Rolex 73-75-76 224
T14 11/18/2017 Rolex Tournament of Champions 75-75-74-70 294
T17 10/06/2017 The PING Invitational 75-72-77 224
Rose was on the winning West Team in the Wyndham Cup, a Junior Ryder Cup format, pitting the West against the East.