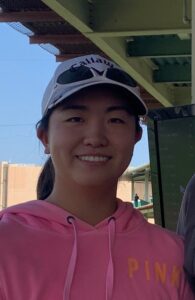 View Rose's Photo Gallery
Rose Zhang, the 17 year old, #1 Rolex AJGA ranked player (85 consecutive weeks!) is making her mark in the world of golf, this year. In the Covid-19 shortened 2020 schedule, Rose has had a terrific year by winning the 2020 U.S. Women's Amateur (with a left wrist injury and no practice 10 days prior to the Amateur). 10 days later, with no practice, just rest (wrist), she decided to test it in the prestigious Rolex Girls Junior Championship. Then Rose, led off the event with a record setting 64 (-8) in the 72 hole event. Going into the final round with her wrist in pain, the followers got within a shot of the leader after 10 holes. Then Rose responded to the challenge where she made birdies on 15-16-17-18, and won the Rolex by 6 shots!
In September, Rose made good use of her exemption into the LPGA ANA Inspiration (a major), by finishing T11, and setting an Amateur record by going birdie-birdie on the 71st and 72nd holes of this major championship. Rose was 1 shot behind Gabby Ruffles, (USC senior) at -6 under, when she made her charge on the last 2 holes to break Michelle Wie's, 2004 record! The following week, she rose to #1 in the World Amateur Golf Ranking.
In 2019, she was one of the youngest competitors in the Augusta National Women's Amateur. She was named by American Junior Golf Association as the 2019 Player of the Year. She made the cut in the U.S. Women's Open. At the 2019 Pan American Games, she was a golf medal winner on the U.S. Mixed-gender team and finished 8th in the individual competition.
Amateur Wins
2016 AJGA – CJGT Junior at Yorba Linda
2017 Junior PGA Championship, Junior America's Cup
2018 ANA Junior Inspiration, Swinging Skirts AJGA Invitational , The PING Invitational
2019 Toyota Junior World Cup, Swinging Skirts AJGA Invitational, Rolex Tournament of Champions
2020 U.S. Women's Amateur, Rolex Girls Junior Championship
U.S. National Team Appearances
Junior Solheim Cup: 2017 (winners) 2019 (winners)
Junior Ryder Cup: 2018 (winners)