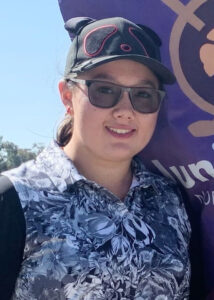 Sophie Zhang-Murphy is a 16 year old from Saratoga, California.  Sophie is currently ranked number 11 in the Rolex AJGA Rankings and has won 2 of her last 4 events while placing 6th in the other two.  Sophie won the Under Armour / Alison Lee Junior Championship with rounds of 65-66-71 (202) in July and then backed that up with a victory in the UHY / The First Tee of Greater Baltimore Junior championship with 69-76-69 (214).  Sophi played well in the Rolex Girls Junior Championship as she placed 6th in the Invitational with 73-72-67-71 (283).  Sophie is a power player that is working hard to gain more control and better course management skills to allow her to make fewer mistakes.
Sophie's nickname is Panda because her grandparents live in the area of China where the Panda's reside.  When Sophie was young, her grandfather, a writer and playwright would take her to the park on Saturdays and tell her stories about the Panda's.  Thus, the nickname Panda.
Sophie is on an upward trajectory as she is super committed to her game as she travels from the Palo Alto area to the GPGA for her coaching and instruction, a trip of approximately 6-7 hours.