What is the TrackMan Combine?
TrackMan Combine is a standardized test that enables you to identify the strengths and weaknesses in your golf game. Discover the clear correlation between your TrackMan Combine results and your success on the golf course.
The TrackMan Combine consists of 60 shots hit to selected distances. TrackMan scores each shot on a scale of 0-100 based on your accuracy.
Your TrackMan Combine score = your game
Since it's introduction, Major Championship winners to high handicappers have taken a TrackMan Combine. In fact, the database of TrackMan Combine scores now numbers in the thousands.
2011 leading money winner on the PGA TOUR and European Tour and PGA Player of the Year, Luke Donald is one of the leading scorers on the TrackMan Combine. With Sun Young Yoo recording the highest score for women within weeks of her winning a professional golf tournament.
Contact George Pinnell at 626-512-4575 to take your TrackMan Combine today!

When your TrackMan Combine is completed, you receive an online report containing:
A TrackMan Combine score for every yardage
An aggregate TrackMan Combine score
Your average distance to the pin for every yardage
Your average driver distance and accuracy
Free access to the online TrackMan Combine database to compare your scores with the pros and your peers
A percentile ranking for each yardage – based on the selected peer group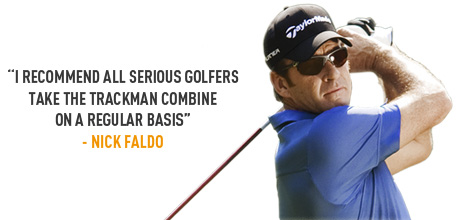 Nick Faldo after completing a TrackMan Combine
"This is great! The TrackMan Combine clearly identifies a player's strength and weaknesses. It is great for a player to be able to find out their best layup yardage or see if there may be some gapping issues with their set. At the same time it is both challenging and fun and creates a unique practice experience."
Upon receiving his aggregate TrackMan Combine score of 83 Nick replied, "I can do better than that. It really creates a little pressure as you go along and that is fantastic. I'll have to work on some of these yardages and then take it again. I'm sure I can beat that score."