Lalita Patipaksiri 3rd At Julie Inkster Spartan Invite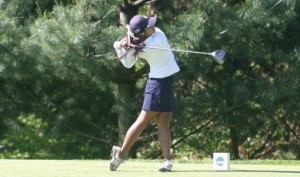 Lalita Patipaksiri, a senior, playing for the University of California, Irvine (UCI) shot the best round of the final day, an even par 72 in windy and cold temperatures at the Juli Inkster Spartan Invite. The tournament was played on the Almaden Golf and Country Club in San Jose, California. San Jose State University hosted the event. Lalita shot 73-71-72 (216) to finish in 3rd place, 2 shot's off the winning score of 214, by Joanne Lee of California. 2nd place went to another California player, Daniela Holmqvist at 215. California won the event with a 3 round total of 879. UCI finished in 5th place.
Lalita used her short game skills, coupled with her solid putting and course management to finish strong in her final season of collegiate golf. Lalita, who resides in Cypress, CA, has been a long time student of George Pinnell ( 11 year's) at the George Pinnell Golf Academy.