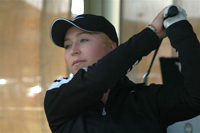 Joy Trotter, former University of California, Irvine, standout, made another strong showing on the Cactus tour by shooting the day's lowest score of 70 in difficult, cold, windy weather. Joy shot 76-70-70 (216) to finish 2 shots behind LPGA Tour Player Irene Cho who shot 68-71-75 (214).
Joy's second place showing netted her $1700 and gives her another top finish in her second season on the Cactus Tour. Overall, the talented player from Chino Hills, CA. has 5 victories, 4 top five's and 6 top ten finishes in 2 season's.
Joy will be attempting to Monday qualify at the RR Donnelley LPGA Founders Cup in Phoenix, Arizona on Monday, March 12. She will then travel to Los Angeles to Monday qualify for the Kia Classic on Monday, March 19. Joy is working on her game and preparing for this year's LPGA Qualifying School. A dream that could come true if she continues her strong play into the summer.