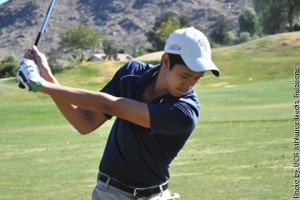 Jason Semthiti, a freshman at the University of California, Riverside (UCR) is having a good first year on the UCR Golf Team. Since Jason was 11 years old, his goal has been to play college golf at a division 1 university. George Pinnell, Jason's swing coach and mentor, has called Jason a "range rat," because Jason could always be found practicing or playing at Rancho Park in Los Angeles as a junior player. Jason's preparation and determination earned him a spot on the UCR Golf Team his freshman year.
Jason finished 2nd in his first collegiate event and has been a solid contributor to the UCR squad. Jason is currently 2nd in scoring, is first in 1st round scoring average, 3rd in last round average, 2nd in par 3 scoring, 2nd in par 4 scoring, 2nd in par 5 scoring, 2nd in eagles, third in subpar strokes/round, 1st in pars per round, 1st in least bogeys per round.
Jason has told Pinnell, "I am living my dream." Pinnell has said, "Jason has always been a treat to work with and his personality and commitment will serve him well in his future." Sound's like Jason is in a good place with his education and his golf game.