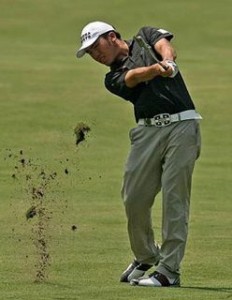 Inspirational young golfer Rory Hie competes in this week's Enjoy Jakarta Indonesia Open aiming to learn from the experience of last year's narrow defeat while also literally keeping his feet on the ground.
The US$1 million tournament tees off on Thursday at Emeralda Golf Club and Hie is bidding to become only the second Indonesian to win his country's national Open after Kasiadi's success in 1989.
A stellar field has assembled including defending champion Thaworn Wiratchant from Thailand, and Japanese star Shingo Katayama, who has triumphed 26 times in Japan.
Also competing are 2010 One Asia Order of Merit champion Liang Wenchong of China and Australian Scott Strange, who topped the inaugural Merit list in 2009.
The event is the opening tournament of the season on One Asia and is being jointly sanctioned by the Japan Golf Tour Organization for the first time.
Last year Hie appeared on course for victory but eventually ended one stroke behind Thaworn after dropping shots on 15 and 18.
He finished joint second, which matched his impressive runner-up finish earlier in the year in the Indonesia PGA Championship, also on One Asia.
"I do not look back on last year's final round in the Indonesia Open in a negative way," said Hie. "It is adding towards my positive feeling for this week. I know that I have done it before and I feel like if I play well I will be up there again."
While a total of 30 Indonesians are competing this week, the weight of expectations are on on the shoulders of young Hie.
"For the Indonesia PGA championship I was not too disappointed as I actually fought back to get to second place," he said, "but with the Indonesia Open I felt like I gave it away."
"Hopefully with my new swing and mental approach I can handle it better this year."
The 23 year old has been working hard on his game in all areas and has also been practicing regularly at Emeralda, on the southern outskirts of greater Jakarta. He has played three rounds at the highly rated venue every week for the past month.
"I am very positive this week and trying not to put too much pressure on myself," he said. "It is the season opener so we will see how it goes."
Keeping his feet on the ground will be part of that approach.
"I have tightened up my swing and I have grown a lot more as a person. I am also not just trying to hit the ball hard every time."
Hie played in the Pro Am on Tuesday and was delighted with his game.
"I played very well today and hit the ball very well," he said. "I also scrambled pretty well which is something that is pretty new to me."
The ultra-talented golfer burst through in 2008 by winning The International Championship in Indonesia on the ASIAN PGA Tour just months after turning professional.
A former University of Southern California All-American, he was once ranked ranked the sixth best-amateur in the world.