J. Choi 14th At Indonesia Open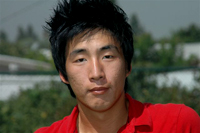 Jay Choi shot 71-72-71-71 (285) to tie for 14th place at the Indonesian Open, Jakarta, Indonesia. Jay's objective for 2012 was to get off to a better start than he did last year as he missed the cut in this opening event. !4th place earned Jay $15,000 U.S. Dollars.
David Oh, finished in a tie for 3rd place and Rory Hie shared 9th place. Nick Cullen from Australia won the event with a score of 279 (72-66-67-74).
Jay is on his way to New Zealand where he has been invited to play in the New Zealand PGA Championship in Queenstown, New Zealand. Live scoring can be seen at www.pgachampionship.co.nz