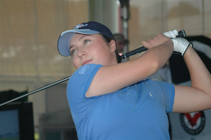 Joy Trotter continues her outstanding play on The Cactus Tour by leading the 2012 Event At Seville. Joy had a first round 70 that give's her a 2 shot lead over amateur Kyla Inaba whose 72 put her in second place. Tied for third is Trotter's former teammate at UCI Irvine, Hillary Packard. Hillary shot 73.
Joy is working hard on The Cactus Tour to give her the experience of winning and playing at the professional level. Joy will have a full spring and summer schedule which will include the LPGA Tour Qualifying School, her ultimate goal of playing tour golf.
Trotter took last week off and returned to California to prepare for several more events in Arizona. Her swing coach, George Pinnell see's steady progress in Joy's swing and preparation for competitive events. Joy is spending a considerable time on her putting and she feel's that when she makes a few more putt's, it will be a game changer for her, according to Pinnell. "Her ball striking has improved dramatically in the last 6 months" Pinnell said.