Lalita Patipaksiri Big West Player Of The Month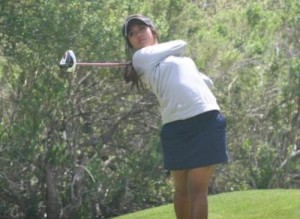 UC Irvine's Lalita Patipaksiri was named the Big West Conference Golfer of the Month for March. Lalita finished among the top-5 in both tournaments during the month of March, including a season-best third place finish (216) at the Juli Inkster Invitational where she competed against Top 25 teams Washinton, California, Oregon and UC Davis.
And that is not all. Lalita made the UCI Dean's List for the third time. A pretty busy schedule for the senior from Cypress, CA. who will be graduating this spring (4 year's). Lalita told her coach George Pinnell, "it will be a relief to be able to concentrate on golf only, and not have to balance golf and academic's." It look's like she has done a good job in both area's. Lalita is also the team leader of the UCI Golf Team. A talented, young player with a great future.