Trotter Rock's The Cactus Tour With 9 Shot Victory and 6th Win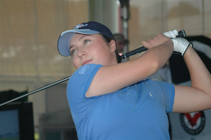 Joy Trotter was on her game when she won The Cactus Tour's Tres Rios Event with a 9 shot victory over second place Lori Atsedes. Trotter shot 66-68-72 (206) to pick up her 6th win in less than 2 years on The Cactus Tour. The third round was played in windy condition's and tested the player's ability to control their golf ball. Trotter started her final round with a bogey on one but backed it up with a birdie on 2 and then rolled in 16 consecutive par's without a blemish to pocked the $1900 first place prize. Joy, currently lead's The Cactus Tour Money List with earnings of $10,350.00.
This victory gives Trotter a boost going into her first Symetra Tour Event in Sarasota, Florida, next week. Joy told her swing coach, George Pinnell, "my ball striking is continuing to be solid and my putter has really helped me in the last couple of events." The Sara Bay Classic, Sarasota, FL will be played Apr 20-22. Stay Tuned.