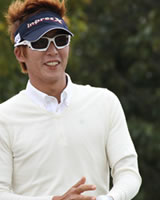 Jay Choi fired a 4 under par, 67 to move into a tie for 5th place at the JGTO Token Homemate Cup 2012 being played this week in Nagoya, Japan. Choi needed only 11 putts on the front nine that included 4 birdies and 5 pars for a 31. A bogey on number 14 was the only blemish on Choi's scorecard, but he birdied the 15th to shoot even par and a second round 67. The former University of New Mexico All-American required only 25 putts in his second round and recorded only 1 bogey in 36 holes.
Choi worked on his putting stroke in the off season with his coach, George Pinnell. After spending considerable time on the Sam PuttLab, Choi was able to isolate his stroke issue and is working hard to keep the putter on path with a square face. Jay's short game work is also paying off as the only bogey is a result of a 3 putt. Jay is 100% (11 for 11) in getting up and down for par and highlights the importance of chipping and putting to posting lower scores.
Choi is 3 shots off the lead, held by Tatsunori Nukaga who shot 64-69 (133). Yui Ueda and Richard Lee are tied for 2nd at -7. Jay's third round tee time is 6 pm Pacific Coast Time.
Check out live scoring at www.jgto.org.
The Interview with Jay Choi using Google Translate)
The chin was sharp, sleek body was visibly tightened and became slim.69 kg body weight is now 80 kilometers from the end of last year. Was able to return year and came to Japan for the first time, nearly the same number.
Method can be practiced earnestly stoic. This off, some days were more than 12 hours sitting in the course.
"Then lean with nature." Was also cut back shot. Also increase the accuracy of the swing, I kill two birds with one stone. In practice, especially for taking the time were "three quarter shot," was suddenly served from this opening game. And "easy to control even out strong in the wind", folded the tournament in a good position to shorten the score to four. The Korean-born American, at the same time as the full-scale war in 2010, decided Tarao Country Club based in Shiga Prefecture, is now a regular of the seed. Laugh "Japan is too delicious rice and"."Aside from practice, and go to eat or even massaging delicious." Cause it to gain weight. Working on weight loss from reflection, refresh body and soul. The question, was tired of hearing again and again, while blurring the month was Ira Iki~tsu some goals this year is the second year of seed! "To win again, but said that many times."