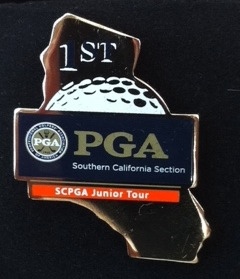 AJ Song, Yorba Linda, CA and Alexa Melton, Covina, CA, won the 11 and under age group for the JDL @ Arcadia Golf Course in Arcadia, CA. AJ shot one over par 28 and shot -1 in his last four holes to secure the win. AJ had 3 bogies and 2 birdies to go along with 4 par's in this 9 hole event. AJ birdied 6, bogeyed 7, birdied 8 and made par on number 9. A great finish for the up and coming player from Yorba Linda, CA.
Alexa Melton, Covina, CA, shot 34 (+7) to win the girls division by a shot over Sherilyn Villanueva, Anaheim, CA. Alexa pared the first 2 holes before she ran into double bogies on 3 and 4. Alexa bogied 5, pared 6, made a great birdie on 7 and then made bogies on 8 and 9 for the 34 and the victory.
Alexa and AJ are good examples of the up and coming player's in the SCPGA Junior Tour.
AJ and Alexa both are student's at the George Pinnell Golf Academy in Rowland Heights, CA.