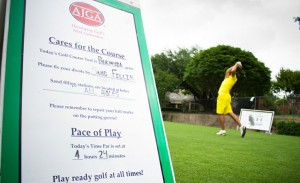 This past weekend, I experienced one of those Twilight Zone moments.
About halfway through a 36-hole day at the AJGA Under Armour/Hunter Mahan Championship, I was walking near the Gleneagles Country Club clubhouse and noticed a few of the players hitting balls on the range, a few rolling putts on the practice green. No big deal. Those images did not register until I walked up the steps, entered the dining area and noticed a room full of players enjoying lunch.
It was then that I realized something was just a little off.
Enjoying a sit-down lunch or hitting a few balls between rounds on a 36-hole day is something that simply does not happen at the collegiate level, where I spend the most time watching golf.
It's not that it is not possible, because it clearly is. The problem is, there is no time for the college players to take a 45-minute break. It's not uncommon for those rounds of golf to go well past five hours and sometimes into the six-hour range. I've even heard of six-hour-plus rounds.
How is that possible here at this junior event? After all, the field this weekend consists of 72 players. That would equal 14 teams and two individuals at the next level. Fifteen-team fields are seen often in college events.
The answer is probably found on a shelf at the AJGA. It's probably in some sort of three-ring binder titled "Pace of Play Policy." It's something the AJGA takes seriously and seems to be taken seriously by all who play in these events.
How does it work? A series of checkpoints – six per round – helps place the responsibility of keeping a good pace on the player, not a rules official. The AJGA uses six trained people to monitor the six checkpoints placed throughout the course – which is where some of this may fall off at the next level. Some college tournaments struggle to have enough volunteers/rules officials to even conduct a tournament in the simplest way. Another major problem at the next level is field size, because once you have more teams and then add tougher course conditions, pace of play is going to go right out the window.
For now, most of the nation's top juniors are being trained to play faster, and hopefully someday that will be carried over to the next level so those 36-hole days can become more enjoyable and not torture for the collegiate players. And they might even have time to sit and enjoy a sandwich.
By Lance Ringler