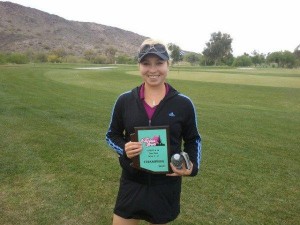 Joy Trotter shot a final round 67 to compliment her 66-67 for a total 3 day score of 200, to win by 11 shots on the Cactus Tour. The event was played at the Orange Tree Golf Club. The victory was Trotter's eighth win in less than 2 years on the Cactus Tour. Second place went to Samantha Postillion at 211.
Trotter credits her good play to her consistency with her ball striking and the recent change in shaft on her Callaway Razr Hawk driver. Trotter borrowed her coach's shaft that was a little stronger than her original one and found that she was more confident with it and could "rip" it when necessary. Trotter play's Callaway's irons and woods and is extremely happy with their performance.
Trotter's win on Wednesday, extends her lead on The Cactus Tour's Money List. The winning check was $1800.