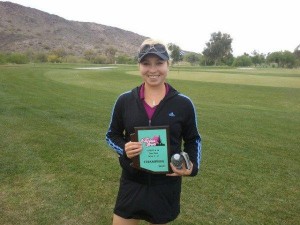 A steady swing, backed by new found confidence has given Joy Trotter her 4th win in 2012 and 9th overall (in 1 1/2 yrs.). The steady former UCI player shot 70-71-70 (211) to outdistance Rebecka Heinmert who shot 72-75-70 (217) at the Ocotillo Golf Club on The Cactus Tour. The win netted Trotter $1800 and increased her season's lead on The Cactus Tour Money List.
Trotter, will play in the Richmond BC Canadian Women's Tour, May 12-17, 2012 and then play in the Colorado Open at Green Valley CC, May 30-June 1, 2012. Following the Colorado Open, she will play in the US Women's Open Qualifier at the Broadmoor on June 3, 2012 and then fly to Marion, Iowa for a Symetra Tour Event (Near Cedar Rapids).
Trotter's swing and game has been developed under the guidance of George Pinnell, who Trotter has worked with since she was in seventh grade.