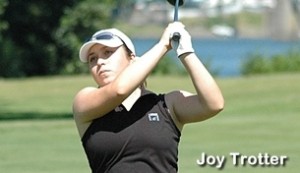 Richmond, B.C. (Golf Canada) – Joy Trotter of Chino Hills, Calif., Tara Goedeken of Dodge City, Kansas and Allison Hanna of Clackamas, Ore. carded opening round scores of 2-under 70 to sit atop the leaderboard in a three-way tie for first at the CN Canadian Women's Tour season-opening event at Richmond Country Club in Richmond, B.C.
Trotter, a runner up at last season's CN Canadian Women's Tour opener in Squamish, B.C., converted four birdies on the day, while Goedeken and Hanna converted four and three respectively en route to tying one another through 18 holes of play.
"I was able to hit the fairways. That's important out here. If you don't, it's toast, just like Squamish last year," said Trotter, who currently competes primarily on the Cactus and Symetra Tours. "Today, I found my tempo, and if I had a shot that was off, I was able to relax and calm myself down."
Heading into tomorrow's final round, Goedeken, who also competes primarily on the Symetra Tour, acknowledged the importance of confidence and poise with a champion's exemption into the 2012 CN Canadian Women's Open and a $10,000 (CAD) winners' cheque on the line.
"It's a shoot-out," said Goedeken, a product of the University of Tulsa. "I came into the tournament with no fear, and I try to go for every hole and see if I can birdie all of them. I'll just go out and have fun tomorrow, do the best I can, and if I do that, I'm happy with that."
Seven competitors are tied for fourth at 1-under 71, including Team Canada's Brooke Henderson of Smiths Falls, Ont., and Jisoo Keel of Coquitlam, B.C., the 2011 CN Canadian Women's Tour Top Amateur of the Year.
Oakville, Ont.'s Jessica Shepley, the two-time defending Jocelyne Bourassa Player of the Year on the CN Canadian Women's Tour, is tied for 11th spot after carding a round of even-par 72.
Several current and former members of Team Canada also produced notable opening-round finishes, including Christine Wong of Richmond, B.C., who sits tied for 14th at 1-over 73 alongside Team Canada graduate Sue Kim of Langley, B.C. Toronto's Anna Kim, fresh off a victory at the 2012 CN Future Links Pacific Championship in Parksville, B.C., and Brogan McKinnon of Mississauga, Ont. are tied for 21st at 2-over 74.
Kelowna, B.C. native Samantha Richdale is also tied for 21st, while Team Canada's Augusta James of Bath, Ont. is alone in 28th place at 3-over 75.
The final round will tee-off on split tees (Nos. 1 and 10) beginning at 8:00 a.m. PDT on Wednesday, May 16th.
Spectators are admitted free to the tournament and live scoring will be available online at www.cncanadianwomenstour.com and www.golfcanada.ca.
The following are opening round scores from the CN Canadian Women's Tour event at Richmond Country Club in Richmond, B.C.: (6,198 yards / par 72)
1. Tara Goedeken, Dodge City, KS, 35-35-70 -2
1. Joy Trotter, Chino Hills, CA, 36-34-70 -2
1. Allison Hanna, Clackamas, OR, 37-33-70 -2
4. So Yeon Park, Vancouver, BC, 35-36-71 -1
4. Emma Jandel, Dayton, OH, 34-37-71 -1
4. Brooke Mackenzie Henderson (a), Smiths Falls, ON, 36-35-71 -1
4. Renee Skidmore, Everett, WA, 35-36-71 -1
4. Stephanie Louden, Frisco, TX, 36-35-71 -1
4. Jisoo Keel (a), Coquitlam, BC, 33-38-71 -1
4. Melissa "Mo" Martin, Altadena, CA, 33-38-71 -1
11. Nicole Zhang (a), Calgary, AB, 38-34-72 E
11. Kim Welch, Roseville, CA, 37-35-72 E
11. Jessica Shepley, Oakville, ON, 35-37-72 E
14. Ashley Sholer, Hamilton, ON, 38-35-73 +1
14. Kirby Dreher, Fort St. John, BC, 38-35-73 +1
14. Christine Wong (a), Richmond, BC, 36-37-73 +1
14. Tomoko Yokoyama, Irvine, CA, 37-36-73 +1
14. Lauren Mielbrecht, Gulf Stream, FL, 37-36-73 +1
14. Courtney Harter, Clearwater, FL, 39-34-73 +1
14. Sue Kim, Langley, BC, 34-39-73 +1
21. Samantha Richdale, Kelowna, BC, 37-37-74 +2
21. Anna (Younjin) Kim (a), Toronto, ON, 37-37-74 +2
21. Brogan McKinnon (a), Mississauga, ON, 37-37-74 +2
21. Stacey Bieber, Winnipeg, MB, 34-40-74 +2
21. Hye-Min Kim, San Diego, CA, 37-37-74 +2
21. Rachel Connor, United Kingdom, 39-35-74 +2
21. Lisa Ferrero, Lodi, CA, 39-35-74 +2
28. Augusta James (a), Bath, ON, 36-39-75 +3
29. Angela Drane, Grandview, PE, 39-37-76 +4
29. Lauren Hunt, Little River, SC, 38-38-76 +4
29. Danielle Mills, Pointe-Claire, QC, 38-38-76 +4
29. Ashli Bunch, Morristown, TN, 37-39-76 +4
29. Candace Schepperle, Brimingham, AL, 36-40-76 +4
29. Tracy Stanford, Midland, TX, 40-36-76 +4
29. Taylor Kim (a), Surrey, BC, 37-39-76 +4
29. Sara Maude Juneau, Fossambault, QC, 40-36-76 +4
29. Jessi Gebhardt, Bellingham, WA, 38-38-76 +4
38. Jamie Oleksiew (a), Surrey, BC, 40-37-77 +5
38. Moah Chang, Los Angeles, CA, 37-40-77 +5
38. Emily Flanigan, Reunion, FL, 37-40-77 +5
38. Chandra Alexander, San Angelo, TX, 37-40-77 +5
38. Sydney Cox, Edmond, OK, 41-36-77 +5
38. Erica Moston, Belmont, CA, 40-37-77 +5
38. Courtney Mahon, Lees Summit, MO, 39-38-77 +5
38. Catherine Matranga, Fort Worth, TX, 37-40-77 +5
46. A Ram Choi (a), Surrey, BC, 38-40-78 +6
46. Christy Yun, Chandler, AZ, 38-40-78 +6
46. Chelsea Bach, Phoenix, AZ, 39-39-78 +6
49. Keanna Mason (a), Maple Ridge, BC, 43-36-79 +7
49. Susan Choi, Natick, MA, 39-40-79 +7
49. Kristen Park, Buena Park, CA, 41-38-79 +7
49. Amy Eneroth, Colbert, WA, 42-37-79 +7
49. Cathy Kim, Bellevue, WA, 40-39-79 +7
49. Melissa Mabanta, Langley, BC, 41-38-79 +7
49. Angel Sze, San Marino, CA, 42-37-79 +7
56. Patricia Beliard, Houston, TX, 40-40-80 +8
56. Lindsey Bergeon, Sarasota, FL, 40-40-80 +8
56. Kyla Inaba (a), Kelowna, BC, 41-39-80 +8
56. Minhee Park, Tieton, WA, 41-39-80 +8
56. Christina Proteau (a), Port Alberni, BC, 40-40-80 +8
61. Noriko Nakazaki, Hanover Park, IL, 41-40-81 +9
61. Ally Shin (a), Coquitlam, BC, 40-41-81 +9
61. Jennifer Hong, Granger, IL, 42-39-81 +9
61. Sabrina Sapone (a), Montreal, QC, 39-42-81 +9
61. Seema Sadekar, Toronto, ON, 39-42-81 +9
61. Szu-Hsuan Huang (a), Qualicum Beach, BC, 40-41-81 +9
67. Andrea Kosa (a), Calgary, AB, 43-39-82 +10
67. Katie Detlefsen, Eagan, MN, 40-42-82 +10
67. Natalie Guidry, Costa Mesa, CA, 39-43-82 +10
67. Jacqueline Kazarian, Dana Point, CA, 43-39-82 +10
67. Ginny Brown, Austin, TX, 43-39-82 +10
67. Justina Yu, Las Vegas, NV, 42-40-82 +10
67. Jessica Hauser, Hartland, WI, 42-40-82 +10
67. Jennifer Greggain, Chilliwack, British Columbia, 42-40-82 +10
75. Lauren Sullivan, Fort Worth, TX, 43-41-84 +12
76. Celeste Bobbitt, Rogers, AR, 42-43-85 +13
76. Sydney MacDonald (a), Calgary, AB, 43-42-85 +13
76. Alexis Bennett, Rockford, IL, 43-42-85 +13
76. Jordan Allyne, Bellevue, WA, 45-40-85 +13
76. Alexa Kim, Toronto, ON, 44-41-85 +13
76. Elena Robles, Redondo Beach, CA, 45-40-85 +13
82. Tracy Nichols, Rocklin, CA, 45-41-86 +14
83. Sabina Imboden, Marbella Spain, 44-43-87 +15
83. Amanda McPhee, Winchester, MA, 42-45-87 +15
85. Jenna Pearson, Wheaton, IL, 44-44-88 +16
85. Nicole Forshner, Banff, AB, 46-42-88 +16
87. Ashlee Claydon, Port Moody, BC, 44-45-89 +17
— DID NOT FINISH —
CUT. Sylvie Schetagne, Delson-Laval, QC +18
WD. Courtney Coleman, Rochester, WA