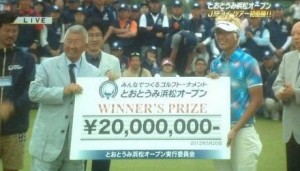 Jay Choi, Wildomar, CA, and a third year tour player on the Japan Golf Tour, won his first event in dramatic fashion in the 4th and final round with a one putt birdie on the final hole to secure the win of the Totoumi Hamamtsu Open. Jay shot 68-71-68-65 (272) to win by one shot over Yoshinori Fujimoto who finished second alone.
Choi told his coach, George Pinnell, (by phone), that he had played solid all week and that his second round 71 was played in stiff winds that made club selection more difficult. Jay hit 8 green's in the windy condition's, but made 9 of 10 up/down's to score a -1 (71). The talented young player shot another 68 in the third round before his 7 birdie, no bogey, 65 in the final round that secured the victory.
Jay had not looked at the leader board all day until right before his third shot on the par 5 18th hole. Jay noted that Fujimoto made bogey on 17 and realized that he was tied for the lead. Faced with an 80 yard wedge shot he knew that this was his opportunity for his first victory. Jay's 3rd shot was to be the shot of his career and he realized how important it was. Hi pulled the trigger and hit his 3rd shot to within about a foot and a half for a tap in birdie that would prove to be the winning shot of the Totoumi Hamamatsu Open.
The victor needed only 28, 26, 29 and 25 putts to seal the victory. It is a little ironic that Jay had missed the cut in his last 2 events, complaining to Pinnell, "I cannot control my golf ball. I am hitting it left and right and I am not sure why." Pinnell explained to the frustrated player, what the probable cause might be, and Jay said "that makes sense, I will get to work on it tomorrow." The rest is history!