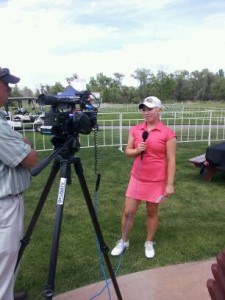 Joy Trotter shot a one over par 73 in the final round to hold off Bacca Huffer by 2 shot's, to win the HealthONE Colorado Open, played at Green Valley Ranch Golf Club, Denver, Colorado. Joy shot, 69-71-73 (213) -3 to win the $11,000 first place check and trophy.
Last year the young player from Chino Hills, CA, finished in second place so this is especially, a good win for Joy, who has won 8 time's in the last 1 1/2 year's on The Cactus Tour. Joy had 3 bogey's in the 54 hole event that exemplifies her outstanding ball striking capabilities. She made 6 birdie's and played the 54 hole's with solid concentration and focus that allowed her to play a reasonably solid back 9 to win the tournament. George Pinnell, Joy's coach, since 7th grade has been working with her to concentrate and focus more to allow her to be able to finish, in what she consider's a major tournament. Pinnell believe's that this win will open the door for Joy in future event's that she will be playing in this summer.
Joy will travel a few mile's south to Colorado Springs where she is entered into the US Women's Qualifier. Immediately after the qualifier she will fly to Cedar Rapids, IA and compete on the Symetra Tour at an event in Marion.