Leila Dizon Qualify's For Optimist International Junior Golf Championship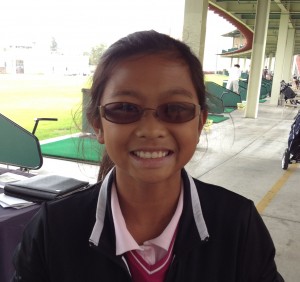 Lelia Dizon, a 12 year old from Los Angeles, CA., qualified for the 2012 Optimist International Junior Golf Championship by firing an 84 and winning the qualifier by 2 shots at Rancho Mirage Country Club in Rancho Mirage, CA. Leila was excited about winning the qualifier but told her coach, George Pinnell that she did not play her best.
The Optimist Championship will be played at PGA National Resort & Spa in Palm Beach Gardens, FL., July 19 – 29, 2012. Leila has been focused on improving her short game mechanic's to enable her to make more par's when she misses a green. The talented player is focusing on playing in the LA County tournaments and will include selected SCPGA Junior Tour event's in her summer schedule.