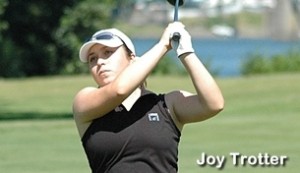 Four bogeys on the back side cost Joy Trotter a top 10 finish in the Symetra Tour's event in Decatur, IL. Joy finished in a tie for 23rd at the Tate & Lyle Players Championship. JT was in the top 10 until a bogey on 10 followed by a birdie on 11, a bogey on 12, birdie on 14 followed by bogies on 15 and 18 led to her tie for 23rd place.
Joy had been playing solid golf until the backside when the bogey/birdie train started. The tie for 23rd is Trotter's best finish in 2 starts on Symetra Tour. George Pinnell, JT's coach said, "The Symetra Tour is new for JT and she is getting adjusted to the larger field and the travel. Give her another tournament and she will adjust and her performance will reflect her talent."
Trotter shot 74-69-72 (215).