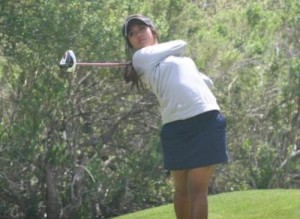 Lalita Patipaksiri ended her amateur career with style, as she won the 82nd Women's Long Beach City Championship with a two day total of 69-72 -3 (141) over two course's, El Dorado Park (par 72) and Recreation Park (par 74). Lalita shot a 3-under 69 at Recreation Park and followed with even par 72 at El Dorado to win by 2 shots over Hillary Packard. Lalita's 69 at Rec Park broke a 12 year record of no one breaking 70 in the championship!
The LB City Championship is a strong field made up from local amateurs and college players. So it is fitting that the former standout from UCI ended her amateur play with a victory against such a strong field.
Lalita, 21, will play selected Cactus Tour event's in Nevada and Arizona before going to the LPGA Qualifying School in September. Her swing coach, George Pinnell, is excited for Lalita's success and looks forward to her progression in the pro ranks. Pinnell said, "Lolly, has been fighting the odd's all of her life, and she has come out on top in every challenge that has confronted her. I suspect, she will again, defy the odds with a strong performance at Q School." Pinnell has been Lalita's and her brother Andrew's coach for 11 year's.
Lalita will turn pro at her first competition on The Cactus Tour early in July in Nevada.