"The Kat" Strikes Again At River View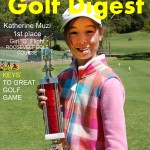 Kat Muzi, 11, won the River View Summer Championship played at River View Golf Club. Kat shot -1 under par 31 (personal best) to win the Championship by six shots over Gracy Park, Irvine, CA. who shot a +5 37.
Trussy Li, San Marino, CA. placed 4th in the Girls 12-14 Division with a +7 69 (18 holes). Noah Lee, 12, Los Angeles, CA, finished in 10th place alone in the Boys 12-13 Division.