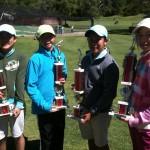 Katherine (Kat) Muzie, added two victories to her resume this week-end at the Casta del Sol Summer Championship and Azusa Greens Summer Championship. The Casta del Sol GC is located in Mission Viejo, CA, and Azusa Greens GC is in Azusa, CA.
Kat shot a one over par 32 in the nine hole championship at Casta del Sol for a 2 shot victory over Kate Villegas, Arcadia, CA. Keeyen Peralta, Fullerton, CA shot a +8 39 for seventh place.
Matt Huo, Corona, CA, finished in 5th place with a +6 37. AJ Son finished a shot behind Matt with a +7 and a tie for 6th place.
At Azusa Greens, Kat won with a personal best on Azusa Greens a +1 over par.
Kat is closing ranks on Girls 9-11 Player of the Year leader Angelina Kim, Los Angeles, with her burst of great play in the past several months and is intent on giving her best effort to win while have a fun summer on the SCPGA JR Tour.