Lalita Patipaksiri 4th in Vegas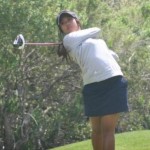 Lalita Patipaksiri, Cypress, CA, shot a final round even par 72 to go along with her opening score's of 70-70 (212) to finish in 4th place at Stallion Mountain, Las Vegas, NV. Fourth place earned Lalita $1000.00 for her first check as a professional. Coming off a win in her last event as an amateur (Long Beach Women's Am) she was playing in her first pro event on the Arizona based Cactus Tour.
Lalita graduated from UCI (Irvine) in June and is excited about starting her life as a professional golfer. Her summer plan's are to continuing playing Cactus Tour events to prepare for the LPGA Qualifying School in Florida this fall. The standout led the NCAA in par 3 scoring in 2010.