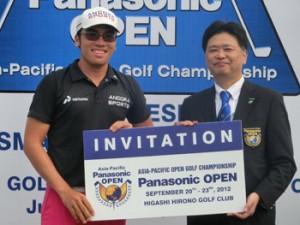 JAKARTA, July 17 – OneAsia ace Rory Hie has qualified for one of Japan's most prestigious tournaments after winning the Road to the Panasonic Open mini-series in his home country of Indonesia.
Hie finished tied for first place in the opening event of the three-tournament qualifier before winning the second outright and clinching his ticket to Japan last week with third place in final round.
The 150 million yen (around U.S.$2 million) Asia-Pacific Golf Championship Panasonic Open 2012 will be held at Higashi Hirono Golf Club in Hyogo from September 20 – 23 this year.
"Obviously I'm very thrilled to get a chance to play in the Panasonic Open in Japan, one of the biggest events on the Japan tour," said Hie.
"And with OneAsia becoming more involved with Japan, and vice versa, I believe that my participation can help grow that relationship."
Hie, the best player Indonesia has produced, is currently eighth on the OneAsia Order of Merit with earnings of $46, 370.61 and two top-ten finishes including joint ninth in the Enjoy Jakarta Indonesia Open.
That event, which started the OneAsia season, was an historic first collaboration between OneAsia and the Japan Golf Tour Organisation (JGTO) which co-sanctioned the tournament.
Hie, 23, has always a strong home-town player. He finished joint second in the Indonesia Open last year and was sole runner up in the Indonesia PGA Championship a few months earlier.