Joy Trotter T26 on Symetra Tour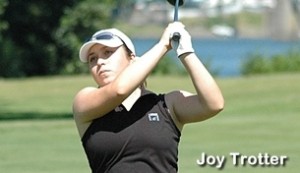 Joy Trotter shot 71-68-74 (213) even par, in the Credit Union Classic presented by Wegmans and finished in a tie for twenty sixth place in Syracuse, NY. Joy's final round 3 over par (par 71) consisted of 3 bogey's and 15 par's. Unlike the first two round's, Joy was unable to get anything started that would allow her to get under par. She got off to a bad start with a bogey on the par 5 second. The leader's made birdie's on one (par 5) and two so she lost 3 shot's to the leader's in the first two hole's. After the bogey on two, she made another one on the par 3, sixth. She played the last 12 hole's 1 over par with her lone bogey on fourteen. It seemed she couldn't get anything going to get into a good rhythm that would allow her a chance to make more birdie's as she had done in the previous 2 round's.
Trotter, according to her coach, George Pinnell, "will use this event as a learning experience and move on. Joy is gaining vital knowledge and experience this year on The Cactus, Canadian and Symetra Tour. Joy won the coveted Women's Colorado Open earlier this summer.