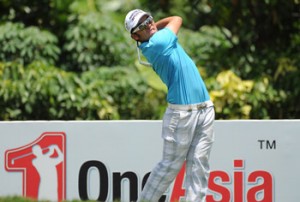 Indonesia's Rory Hie hopes a change of irons and a hot new putter will steer him to his first victory on OneAsia at the U.S. $1 million Thailand Open next week.
The 24-year-old is in cracking form at the moment, having secured a spot in one of Japan's most prestigious tournaments by winning the three-event Road to the Panasonic Open mini-series in his home country last month, but is still seeking a win on the Asia-Pacific's fastest growing tour.
Currently eighth on the Order of Merit with earnings of $46,370.61 from four tournaments, Hie has had two top ten finishes and two missed cuts, but his form over the past couple of years suggests he is due for a big win.
"My game has been coming together nicely," Hie said.
"I am currently working on dialing-in my irons, and hopefully I'll get it done by the Thailand Open."
Before turning pro Hie was rated one of the top ten amateurs in the world and studied at the University of Southern California the United States where he majored in Social Studies and Communications.
He has come a long way from Kalimantan, where as a five-year-old he accompanied his father, Tommy, to a run-down driving range.
"I didn't like it at first because I couldn't get the ball in the air but I was amazed at how far my dad was hitting it — at least at the time," Hie said.
Like most Indonesian youngsters, Hie's first love was football and he played in the street with all the neighbourhood kids — with golf on the back-burner.
"But then I re-started when I was 10 because of Tiger Woods' win at the '97 Masters."
Now the tables have turned and Hie's father regularly accompanies his son on tour — sometimes caddying for him "if the course isn't too hilly".
Second place in the Indonesia Open last year remains Hie's best finish on OneAsia, but new equipment could see him go one better at Suwan Golf & Country Club next week.
"I am absolutely satisfied especially with my new TaylorMade R11S driver which I started using at the Indonesian open," he said.
"In addition I've put in the new ATV wedges which help tremendously out of the rough. I have also put in a new Spider Ghost putter from TaylorMade this month and a new TPMB iron set."
At home in Jakarta, Hie prefers to spend time on the range and saves his game for tournaments.
"I don't have a home course as such, just a home range," he said.
"I always practice at Royale Jakarta or Emeralda, but rarely play them. I like to play on courses that Ive never played so I can spread it around."
As the best golfer Indonesia has ever produced, Hie also has one eye set on Brazil in 2016 when golf makes a return to the Olympic Games in Rio de Janeiro.
"Of course I would like to play Olympics," he said. "Right now I am not familiar with the criteria, but it would be nice to have something to shoot for"
Until then he is taking his golf one round at a time.
"It's all just a learning process, and I am enjoying playing golf more than ever."
Next week's U.S. $1 million Thailand Open has attracted one of the largest and strongest fields in its history following overwhelming interest in the marquee OneAsia event.
A total of 168 players will compete in the 43rd staging of the country's national Open, which features Singha as the premier sponsor.
Defending champion and 2011 Order of Merit winner Andre Stolz of Australia, China's Liang Wenchong, who completed the Thailand Open and OneAsia Order of Merit double in 2010, and OneAsia winners Nick Cullen, Scott Strange, Kim Felton, Michael Hendry, Kim Dae-hyun and Thaworn Wiratchant spearhead the Asia/Pacific challenge.
Ireland's Paul McGinley and Englishmen David Howell (joint fourth in the French Open recently), David Horsey and Richard Finch, who are all multiple winners on the European Tour, also feature in the impressive field.
Five-time Japanese Tour winner Kenichi Kuboya heads a strong contingent from the circuit which has strengthened its ties with OneAsia this season.
The Thailand Open first became part of OneAsia in 2010 and is the fifth leg of the 2012 season.