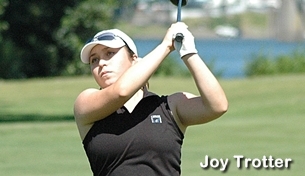 Joy Trotter shot a 3 under par 68 to grab a share ninth place in the Symetra Tour's Credit Union Challenge be played in Albany, NY. JT started on the 10th hole and was +2 after her first 4 hole's. From the 14th (her 5th) JT, shot 5 under par for the remaining 14 hole's. Her front 9 score was 36 and her back side was 32. Joy told her swing coach, George Pinnell, "I felt like my club was getting inside my hand's on the takeaway so I worked to keep the club more to the outside as I took the club into the back swing. I felt like that put me in a better position at the top and that dictated how I got the club back in the downswing. It really helped my ball striking."
Joy told Pinnell, "I am tired, but I am doing my best to keep my swing in plane and the face in the best position I can." JT has been out on the road for eight week's in a row and is in need of a week off for R and R and a tune up on her swing, according to Pinnell. Joy is preparing herself for the LPGA Qualifying School that will begin in early September.
Joy has won 8 time's on the Arizona Cactus Tour and was this year's winner of the coveted Women's Colorado Open. According to Pinnell, Trotter is "paying her due's."
Stay tuned.