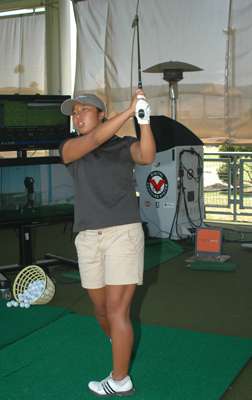 Michelle Thompson, a senior from Tustin, CA., shot a 4 over par 76 to finish in a tie for 2nd place and secure a spot in future Toyota Tour Cup tournaments. Genie Short, Irvine, CA won the event with a 74. Paris Griffith and Kaitleen Sheen also qualified with their score's of 76 on the General Old Golf Course in Riverside, CA.
Michelle opened play with three par's on the opening hole's before she made a birdie on the fourth hole. She backed up the birdie with a par but had trouble on the sixth hole when she made a double bogey followed by bogey's on seven and eight. Michelle, settled down and shot one over par in her final ten hole's finishing her round with a birdie on the eighteenth hole. The senior to be, needed the birdie to position herself to have a shot at qualifying for the Toyota Tour Cup.
Michelle has been committed to improving her ability to "play" the game and not focus so much on result's. According to her swing coach, George Pinnell, "Michelle has a technically sound, connected and rhythmic swing. She need's more experience in tournament play and learning how to "finish" a round." Pinnell was pleased with Michelle's last ten hole's and particularly happy with her birdie on eighteen.