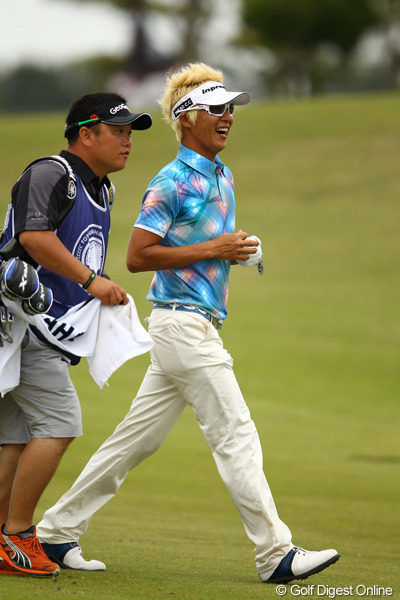 Jay Choi's second round 66 vaulted him into a tie for 9th place in the Vana H Cup KBC Augusta 2012 golf tournament being played at the Keya Golf Club in Fukuoka, Japan. Jay fired his second consecutive bogey free round with a front nine 34 and back nine 32 for a solid 66.
Choi has been working with his club sponsor Yamaha to "tweak" the specification's on his driver to get his desired feel so that he can be more accurate off the tee. The adjustment's in his swing and club appear to be working with his statistical performance. Jay, after two round's is in the top 10 in 5 of the 8 category's.
Scoring Ave. 67.30 (3T)
Putting Ave. 1.6875 (38T)
Birdie or Better 6th (9T)
Par or Better 100.00% (1T)
GIR 88.89% (3T)
Driving Dist. 291.50 (40)
Driving Acc. 71.43% (8)
Sand Save 0/1 (41)
The Vana Cup is one of Jay's favorite tour stop's, evidenced by his 3rd place finish in 2010 and his 5th place finish in 2011. The talented player from Wildomar, CA., is 4 shot's off the lead of Kurt Barnes and is on pace to make a run at the championship.
You can watch him via "live scoring" at www.jgto.org.