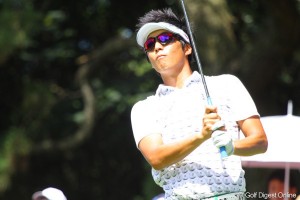 Jay Choi shot a final round 69 to accompany his 69-66-72 -12 (276) to finish in a tie for 7th place in the Vana H Cup KBC Augusta. Jay's final round opened with birdie's on one and two before making his only bogey of the front nine on the sixth hole. A birdie on nine gave him a 2 under par 34, going into the back nine. A bogey on twelve was followed by consecutive birdie's on thirteen and fourteen before a bogey on fifteen slowed Jay down. The gregarious, young player finished his round with a birdie on eighteen for a final round 69.This week Jay improved his driving accuracy which lead to his 79.17% GIR. Jay's game seem's to fit the Vana Cup because in three year's he has placed 3rd, 5th and 7th in this event.
His finish in the Vana Cup kept him in ninth place on the Japan Golf Tour's Money List with 2012 earning's of $410,539.10 (US Dollar's). This figure does not include winning's in New Zealand and Indonesia. The former New Mexico All-American has won once on the Japan Golf Tour.
Jay in a telephone conversation last night with his coach, George Pinnell, indicated that he was planning on entering the PGA Tour Qualifying School that will be contested later this year in Florida. Because of his status in Japan, Jay is exempted into the second stage. His goal is to earn enough money in the next four tournament's to get him exempted into the final stage. This would make it easier on his travel schedule not to mention the stress of the second stage.
Jay's goal has always been to play on the PGA Tour. The PGA Tour has changed the qualifying school requirement's for 2013 so this is the last year that the "Q School" will be allowing qualifier's to go directly to the PGA Tour. In 2013, the qualifying school will be to get onto the Web.com Tour (Formerly the Nationwide Tour). Player's will be required to play on the Web.com tour to gain access to the PGA Tour through a season ending qualifying process that will consist of top money earners to play in three events that will determine the qualifiers for the 2014 season.