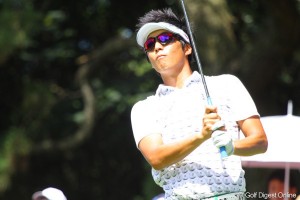 Jay Choi shot a second round 70 to keep him in contention, 3 shot's off the lead at the Fujisankei Classic on the Japan Golf Tour. Jay had a share of the lead when he finished his front nine (started on 10) with four birdie's in his last five hole's to shoot 32. Unfortunately, he went bogey, bogey on one and two when he made the turn. Jay made birdie on three but followed with bogey's on five and nine for a 38 on the front side (his back).
The Fujizakura Country Club is playing difficult as indicated by the number of bogey's made by the player's at or near the top of the leader board. Jay's six birdies were offset by the five bogey's that contributed to his -1 (70). It look's like the third and fourth round's will be exciting and whoever make's the fewest mistake's will be the victor at the Fujisankei Classic.
Live Scoring is available at www.jgto.org.