Jay Choi's 67 Allows Weekend Play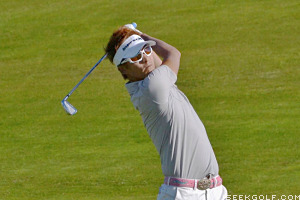 Jay Choi shot 72 in the opening round of the Toshin Golf Tournament at the Ryosen Golf Club in Mie, Japan. The even par, 72 put Jay into 106th place and threatened his being able to make the cut and play on the weekend. But Jay, being Jay, put together a string of holes that included an eagle on a par 4 and birdies on 12, 13 and 15 with the eagle on 14, requiring only 10 putts in his front side 31 (started on 10).
The rest of his round was pretty pedestrian with pars on one through seven, a bogey on eight and a much needed birdie on nine that allowed his -5, 67 to make the cut and play on the weekend. Jay's short game was exceptional as he needed a total of 23 putts. He was seven for eight in getting up and down for par. Another demonstration of how important the short game is in making a good score!