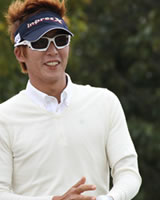 Jay Choi shot a one over par 73 in rainy condition's in the final round of the Canon Open on the Japan Golf Tour this weekend. The 29 year old had 9 par's on his front side and opened the back side with a birdie on 10. Par's on 11 thru 14 kept Jay at -1 for the day and -7 for the tournament. Back to back bogey's on 15 and 16 derailed his run and he finished the tournament with a 73. The final round was played in less than perfect condition's with temperature's in the low 60's with rain.
Jay's final score at Canon Open was 69-71-70-73 (283) -5. The 22nd place tie earned Jay check for $17,948.08 pushing his season earning's to $442,417.01. His lifetime earning's in Japan is $1,438,247.24. This does not include his winning's in New Zealand and Indonesia.
This week's Jay will compete in the Japan Open at Naha Golf Club, Okinawa, Japan.