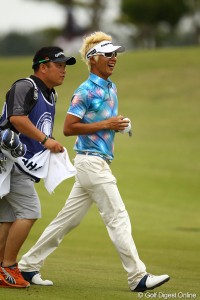 Jay Choi's double bogey on his final hole of the first round must have left a sour taste in his mouth after being one under par for most of the day. As it turned out, the field came back to his +1 and left him tied for the lead in Japan's National Championship. The Japan Open is being played at Naha Golf Club, Okinawa, Japan.
Jay started on the 10th hole with a birdie on the par 5. He made a bogey on 13 a birdie on 16 and a bogey on 18 that left him at even par on his front nine. Par's on 1 through 4 kept him at even par until a birdie on the 5th hole put him back to -1. The double bogey on his 18th (#9) was caused by an errant tee shot that left him with a 179 yard 4-iron shot that required Jay to hit a big slice to get the ball onto the green. A strong crosswind forced the ball into the right side bunker at the rear of the green. Because of the lie, it took 2 shot's to escape and two putt's, for the double bogey that moved him from first, to 20-something.
The course setup at the National Championship is very difficult, so the scoring is higher than most Japan Golf Tour event's. Similar to the US Open. Japan's number one player, Ryo Ishikawa, shot a +8, 79 on the par 71 layout. He is tied with David Oh, a USC graduate and resident from Cerritos, CA.
There are three tough round's of golf left, but Jay Choi has placed himself in a position to challenge if he is able to navigate the difficult condition's of the Naha Golf Club.
Coverage including live scoring can be seen at www.jgto.org.