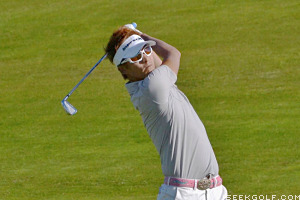 Jay Choi, coming off last week's Japan Open, fired a -3 under par 68 at the Bridgestone Open being played at Sodegaura Country Club in Chiba, Japan. Jay's 68 leave's him tied for 6th place, 4 shot's off the lead of Hiroyuki Fujita who shot 64.
Jay had birdie's on 6 and 7 but were offset by bogey's on 3 and 9 for an even par 35 on the front side of the Dodegaura Country Club. The 29 year old from Wildomar, CA., had three birdie's on his back side to post a three under par 33 to finish at 68 on the par 71 layout.
In past tournament's, Jay seem's to get off to a good start in the opening round and then has difficulties in the final three round's. He is working hard to reverse that trend and stabilize his play, late in the final rounds.
Live scoring is available at www.jgto.org.