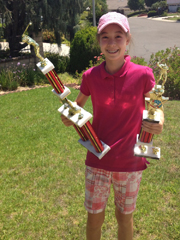 Kat (Katherine) Muzi, 11 years old, loves the game of golf, spends a lot of time on the golf course, and has a lot to show for her efforts. Through August of 2012 she played in 46 events on the Southern California PGA Junior Tour. She won 16 events and came in the top-3 in 34 events. The victories give Kat a significant lead in the Girls 9-11 Player of the Year standings. Kat has accumulated 1741 points to 1570 for her nearest competitor.
Katherine, who will graduate from high school in 2018, won the D Division of the 62nd LA City Jr. Championship in April. The tournament was played at Roosevelt Golf Course at Griffith Park in Los Angeles where Kat shot rounds of 34-40 (74) to win the championship.
Kat also won the Southern California PGA Junior Tour Bridgestone Spring Series Championship at Morongo Golf Club at Tukwet Canyon in May. She played in the Girls 9-11 age group and won in a 3-hole playoff.
Kat will start competing in the Girls 12-14 Junior Tour Division in the Fall. She is not always satisfied with her play and wants to keep practicing her short and long game. We wish her the best. Go Kat Go!