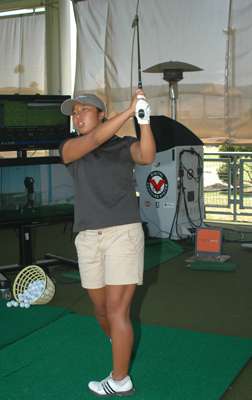 Michelle Thompson, a senior at Foothill High School, Tustin, California, has committed to play golf for Coach Pearl Sinn-Bonani at Cal State Fullerton, Fullerton, CA. Michelle chose Cal State Fullerton because she believe's that Coach Sinn-Bonani has the Titan team headed in the right direction and that Coach's experience on the LPGA Tour will be a positive influence on her development during her college career. Michelle will enter Cal State Fullerton in the fall of 2013.
It was only two year's ago that Michelle decided that golf would be a priority for her and that her goal was to play collegiate golf. Michelle was a competitive swimmer and played soccer before teaming up with George Pinnell at the George Pinnell Golf Academy. Pinnell saw Michelle's potential and worked her hard to develop her skill set. That effort continue's as Michelle move's into the next level of her golf career.
Michelle has two sister's. Rachael is a sophomore and a potential "blue chip" recruit in swimming. Dani is eleven and has been a competitive swimmer but recently she has been "hanging out" with Michelle hitting ball's and attending Michelle's lesson's with Pinnell. Who know's, maybe another player in the Thompson family!