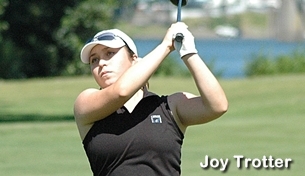 Joy Trotter finished her 2012 season with a tie for 14th at the 2012 Arizona Women's Open that was played at the Foothills Golf Club this week. Joy shot 72-71-73 (216). The talented, up and coming player from Chino Hills, CA had a successful year by winning multiple tournaments on The Arizona Cactus Tour, while winning the Colorado Open and competing on the Symetra Tour that is sponsored be the LPGA Tour.
Joy was exempted into the second stage of the LPGA Qualifying School and missed moving on to the final stage by 1 shot in the 4 day competition. Joy was on tour from early June through October and the long season caused some fatigue. Joy's 2013 schedule will probably be revised a little to allow for needed rest and instruction when needed.
Joy's coach, George Pinnell, is very upbeat about Joy's overall performance and her future goal of playing on the LPGA Tour. Joy will play the Symetra Tour in 2013 with a goal of earning her 2014 LPGA Tour Card by finishing the 2013 season in the Top Ten on the season's Money List (the top 10 earn their tour card).