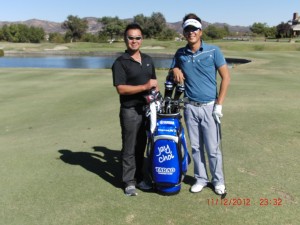 Jay Choi returned to the United State's to compete in the PGA Tour Second Stage Qualifying School on late Monday evening. Jay's commitment to Yamaha Golf and the Japan Golf Tour prevented him from returning earlier to prepare for the difficult Second Stage of the Qualifying School. In his first round, Jay shot and even par 72 to put him in a tie for 34th place. The low 19 and tie's will advance to the final stage that will be played at PGA West, November 28-December 3, 2012.
Earlier Tuesday morning, Jay met with his coach, George Pinnell at Bear Creek, (Q School location) to play nine holes and practice for Wednesday's first round. The focus was placed on Jay's putting and his approach to it. By the end of the day, Jay felt like he was making a better stroke without thinking about mechanic's and speed control. His busy schedule and flight is causing some jet lag, and he is fighting to limit the effect's of this harried schedule. Jay's caddy, Masaaki Ota, traveled with Jay from Japan and has been instrumental in Jay's success on tour this year.
Jay, at the end of the first round is 2 shot's off the "cut" line that will determine who move's on into the final stage. If he makes the cut on Saturday,after the fourth and final round, Jay will remain in the U.S. and prepare for the final's later this month. If he fall's short, he will return to Japan on Sunday morning and tee it up at the Casio World Open, next week. Let's hope he can remain home for Thanksgiving and tee it up in the finals.