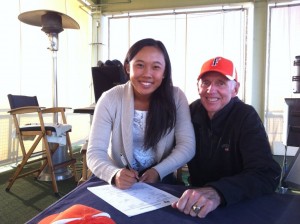 Michelle Thompson a senior at Foothill High School, Tustin, CA, has signed a National Letter of Intent to play for former LPGA Tour Player, Pearl Sinn-Bonani at Cal State Fullerton. Michelle chose Cal State Fullerton because she feels that Coach Sinn-Bonani would be a great influence and help her achieve success at the collegiate level.
Michelle contacted her coach, George Pinnell, as soon as she received the NLI because she wanted him present when she signed. Michelle and Pinnell have been working together for nearly 2 year's, since Michelle ended her competitive swimming career to put her focus and commitment into golf.
Michelle's parent's, Jennifer and Michael are extremely proud of Michelle's achievement's and look forward to seeing her compete at CSF. Michelle has two younger sister's. Rachel is a sophomore and is a swimmer that has already posted "collegiate" time's in her event's. Dani is an eleven year old that has been a swimmer and soccer player but is showing an interest in golf because of Michelle's success. Jennifer and Michael have a lot to be proud of! Look's like we will be seeing a lot of the Thompson trio in the future.