Rory Hie T 28 Emirates Australian Open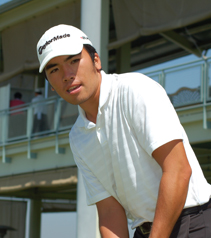 Rory Hie, former USC All-American finished in a tie for 28th place (with Tom Watson) in the Emirates Australian Open that was contested at The Lakes Golf Club in Sydney. Peter Senior, 53 year's old, was the victor in the OneAsia Tournament with rounds of 75-68-69-72 (284).
Rory shot 74-73-70-76 (293) in wind's that gusted to 50 mph that forced play to be stopped for several hours until the wind subsided enough so that play could be resumed. Rory said, "the wind's were unbelievable and that he had never played in that much wind before." according to George Pinnell. Rory is currently 10th on the 2012 Order of Merit on the OneAsia Tour, with earning's of $101,960.40.