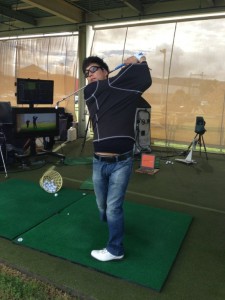 2013 will be Jay Choi's fourth season on the Japan Golf Tour. The 29 year old from Wildomar, CA., has had three successful season's in Japan and including his first win in 2012. Jay is playing out of Bear Creek Country Club in the off season and is fine tuning his Yamaha club's with his coach George Pinnell.
Jay has not been satisfied with his ball flight and has been testing various head and shaft configuration's by using Pinnell's, TrackMan Launch Monitor. They are close to finding the correct combination of launch and spin characteristic's that will allow Jay to improve his driving accuracy in the 2013 season. The duo's strategy is to improve the driver accuracy so that Jay will be in a better position for his approach shot's.
Pinnell just returned from the PGA Merchandise Show and the Teaching & Coaching Summit in Orlando, Florida, where he surveyed the latest equipment and teaching aid's that will help his student's improve their performance in 2013. Jay Choi can be seen in the accompanying photograph wearing the just released, Golf Swing Shirt, that encourage's the matching up of the arm's and chest during the golf swing. TrackMan and the V1 video system with flat screen's can be seen in the background.
Jay will kick off the 2013 season in Thailand and Indonesia.