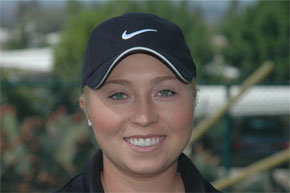 Joy Trotter shot an opening round one under par 71, in the first event of 2013 on the Cactus Tour. Joy is 2 shot's behind the first round leader Caitlin Mccleary's -3, 69. Ashley Edwards shot a -2, 70. Event #1 is a 54 hole event being contested at Club West in the Phoenix area.
Joy shot one under par on the front and even on the back with 2 birdie's and a bogey for the 18 holes.
Trotter has won 8 Cactus Tour event's in the last 2 year's and is looking forward to competing in 2012 on both the Cactus and Symetra Tour's. The Symetra Tour is the LPGA Developmental Tour.