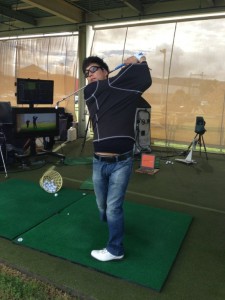 Jay Choi, Japan Golf Tour Player, is back home in California preparing for the upcoming season on the Japan Golf Tour. Jay has been spending the off season at his home in Southern California and his "second home" in Albuquerque, NM. Jay played his collegiate golf at the University of New Mexico and enjoys going back to enjoy New Mexico.
The Japan Golf Tour season is approaching so Jay is getting busy with retooling his game to prepare for tournament's in Thailand and Indonesia prior to returning to Japan. On Thursday, Jay spent the afternoon with his coach George Pinnell, working out with the TrackMan Combine. This was his first experience on the Combine and the talented player got really excited as he went through the skills test. (For those unfamiliar with The Combine, go to www.georgepinnell.com and click on the TrackMan logo and that will route you to information on how you can use this fantastic resource).
This was his first day of getting back to work and he was a little distracted because he was also giving council to a young aspiring player. Jay finished The Combine with a score of 84.7 and is currently in 9th place in the world for February. Kenny Subregis is the leader at 89.4. Jason Gore and Jason Day is in 2nd and 6th place respectively. Jay said, "I can't wait to get back on The Combine to improve my performance and score!" Jay continued, "The Combine really can help player's of all age's and ability to pinpoint their strengths and weaknesses, a fabulous tool!" According to Pinnell, Jay is contemplating joining the many tour players that have purchased a TrackMan for their own personal use and training. Rory Mcilroy has recently joined the likes of Ian Poulter, Jason Dufner, Justin Rose, Edoardo Molinari and another approximately 100 tour player's who have joined the TrackMan Team.
Contact George Pinnell to schedule YOUR TrackMan Combine and improve your game.