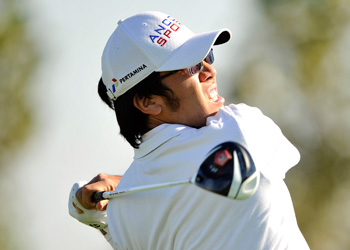 JAKARTA, March 5 – Rory Hie is hoping an upgrade in clubs will help turn his obvious potential into his first victory on OneAsia — and where better to start than at home at the Enjoy Jakarta Indonesia PGA Championship later this month.
Hie has twice come close to winning a OneAsia million-dollar tournament — both times in Indonesia — and he clearly thrives in the steamy tropical conditions in front of a home crowd.
"I am very excited about my equipment this year with the new R1 driver and Rocketbladez irons which are going to help me with my mis-hits," said Hie.
"I also look forward to gaining distance with the new Lethal ball."
Hie, however, knows more than anyone that the secret to winning is not just about the latest equipment, but also improving technique and getting in shape both physically and mentally.
"Technique-wise I am going to be more consistent with how I approach each event," said the 24-year-old, runner-up to Andre Stolz the last time the Indonesia PGA Championship was held in 2011.
That year he also finished joint-runner up to Thaworn Wiratchant at the Enjoy Jakarta Indonesia Open.
"I feel that I am evolving as a player and I am far better than I was in 2011," said Hie, one of the world's top amateurs when he attended the University of Southern California and arguably the best player ever to emerge from Indonesia.
Asked what goals he has set himself for 2013, and the answer is simple: "To win!".
"My putter was cold all last season," he said. "I figured out a good way to putt during the off season and won by nine at a local event. I hope to bring that out this year."
With the Enjoy Jakarta Indonesia PGA Championship played at Emeralda Golf Club this year — where Hie plays most of his golf when not on tour — there will be extra pressure on the young man to succeed.
"I think it's fun to play at home because there will be a lot of support, and it helps me focus when people pay attention to what I do."
Hie has some status on the Asian Tour this year via Q-School, but he intends to focus on the big money at OneAsia's million-dollar tournaments in search of that elusive breakthrough.
"I will play a mixed schedule this year," he said.
"I will try to better my ranking on the Order of Merit from 12th last year and try to break into the top 10 on OneAsia. I think the key is to have a big week and really contend, and I will be up there."
While Hie has his sights set on the Enjoy Jakarta Indonesia PGA Championship from March 28 – 31, his first event on OneAsia this year will be the Thailand Open from March 14 – 17.