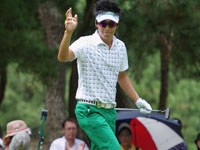 Jay Choi rebounded from missing the cut at the Thailand Open in Bankok with an opening round three under par 69 in the Indonesian PGA Championship. The tournament is being played at the Emeralda Golf Club, Jakarta, Indonesia. Katsumasa Miyamoto, Kazuhiro Yamashita, Richard T Lee, Young-Han Song, Shingo Katayama and Kyoung-yoon Lee, are tied for the lead at 7 under par (65).
Jay's 3 under 69, was made up of six birdie's and three bogey's to go along with his nine par's and 28 putt's. As usual, the short game played a role as Jay made five of six "up and down's." Although he putted rather well he did have two, three putt's that kept him from a 67. He is tied for 30th place, only one shot from 19th.
David Oh is tied with Jay at -3, and Rory Hie, the number one player in Indonesia is at even par.
Live scoring can be viewed at www.jgto.org.