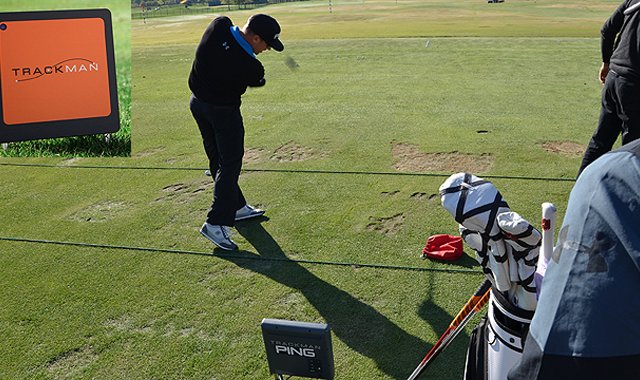 Hunter Mahan spent much of the early season looking for a new 3-wood, and on the Wednesday before the Shell Houston Open he was testing clubs again.
Mahan rocketed one shot after another into the blue Texas sky as his caddie, John Wood, looked on. Also watching was Matt Rollins, Ping's senior PGA Tour manager, who had leaned four seemingly identical Ping G25 fairway woods against Mahan's bag.
Occasionally Rollins glanced down at an iPad Mini that lay on the turf next to a small, orange-faced box that stood about seven feet behind Mahan. After every shot, numbers flashed across the iPad's screen, verifying what the three witnessed – and why they saw it.
The box was a Trackman, a product that has become so popular on the PGA Tour that it's become almost synonymous with launch monitors.
"We've tested all kinds of stuff and used all kinds of stuff," Rollins says, "but at the end of the day we keep going back to Trackman."
Keith Sbarbaro, TaylorMade's vice president of tour operations, agrees.
"It's great because you can use it to fit any club that's being swung," he says. "I've never done it, but you could fit a guy for 60-degree wedges if you wanted and show him the differences."
According to Justin Padjen, who works in business development for Trackman, the technology packed into the briefcase-size unit was originally designed to help the military follow projectiles, including rockets and missiles.
To determine factors such as launch angle, carry distance and spin rate, early launch monitors measured how a golf ball's position changed from one high-speed photograph to another. Padjen says that Trackman emits Doppler radar waves that bounce off a moving object (in this case a golf ball) as it sails through the air.
"It operates, basically, like a camera that is shooting at about 24,000 frames per second," he explains. "It's getting data points continuously."
The reflected waves are detected by three sensors in the box, analyzed by Trackman's software, and then shown graphically on a computer screen as a ball-flight line sailing over a driving range. A wireless, Bluetooth-enabled Trackman that was released last November can also transmit data to a fitter's iPad or iPhone using an app.
In addition to showing how the ball flew through the air, Trackman shows fitters information such as ball speed, dynamic loft, shot height, carry distance and spin rate. Fitters use Trackman's data judiciously because the volume of information the device provides can be overwhelming.
Chris Tuten, Titleist's director of player promotions, works with the company's staff players to ensure they're using the ideal clubs and shafts.
"The main numbers I'm always looking to are launch angle, spin rate, carry distance and ball speed," Tuten says. "Attack angle is also something I'll look at."
Rollins echoes Tuten's comments, adding, "On top of that, I'll look at swing speed and ball speed with different shafts and different heads."
The one thing that Sbarbaro, Rollins and Tuten all say that Trackman can't do is replace the value of an experienced club technician.
"Trackman is something that helps to validate the fitter," Rollins says. "The numbers can validate what I'm saying to the player, because they show that you know what you're doing."
Early in the season, Sbarbaro says that he knew TaylorMade's new RocketBladez Tour irons would be great for Justin Rose, but he also knew it would be hard to convince the No. 3 player in the world to change irons.
"Justin was playing the best golf of his life and loved every club in his bag when I saw him in Tucson," Sbarbaro says. "But we wanted him to try the new stuff, so we had him hit 4-iron versus 4-iron and he saw that the RocketBladez Tour hit the ball a little higher, a little farther and the spin was a little less. The spin rates were also a little more consistent, and that was the selling thing."
With his swing coach Sean Foley watching him, Rose hit five shots in a row with spin rates within a 100 rpm range, Sbarbaro says. With his old TaylorMade Forged TP MB irons, the spin variance was about 300 rpm.
"That was an instant selling point that the clubs were better," Sbarbaro says. As a result, Rose put RocketBladez Tour 3- and 4-iron in his bag that week and recently added the 5-iron, too. Sbarbaro anticipates that the complete set makeover will be done by the Players Championship.
Similarly, Tuten says that he had been working for several months with Bill Haas on fitting him for a new driver. Haas had been going back and forth between his old 910D2 and a new 913D2, so Tuten used a Trackman on the range at Bay Hill to show Haas how the two clubs compared.
"We got the new club dialed in right away, and you could tell that the shaft was performing properly," Tuten says. "Billy wasn't really asking for numbers, and I was really watching his ball flight, but every once in a while I glanced at my phone [where Trackman data appeared] to check his numbers. I told him they were pretty good and then we went and played some holes on the golf course. I think that's the perfect method, given the amount of time we have with these guys."
Similarly, Rollins says that before the start of the WGC-Accenture Match Play Championship in Tucson, Ariz., Lee Westwood complained that his new G25 driver wasn't giving him the distance he expected. Using a Trackman, Rollins and Westwood determined that on tee shots, Westwood's ball was spinning too much. After switching to a lower-spin ball, Westwood gained yards, kept his G25 driver in the bag and, according to Rollins, bought a Trackman for himself that day.
That's not a small investment. Depending on the system, a Trackman can cost between $15,000-$28,000, according to Padjen. Tour players can get a discount, but no one is paid to endorse the product or gets one free.
However, when it comes to properly fitting the game's best players, that hefty sum may be the best investment a manufacturer can make.
By David Dusek