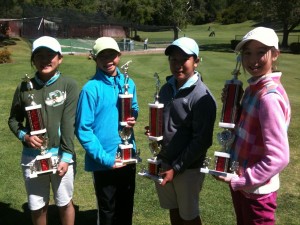 Lead by Breann Fox's fifth place finish in a TOC event and Michelle Thompson's qualifying for a TOC at Desert Falls CC, highlighted a weekend of good golf played by student's at the George Pinnell Golf Academy.
Katherine, "The Kat" Muzi, one of the youngest in a talented field at the TTC @ Twin Oaks, stumbled in her first round with an 83, but rebounded with a solid 75 in the final round to finish in 25th place. Katherine is twelve years old.
Kaitleen Shee, a freshman at Diamond Bar HS, Diamond Bar, CA, shot 78-80 (158) to finish in a tie for 26th place in the TTC @ Twin Oaks.
In action at the TTC Desert Falls Qualifier @ Los Serranos, Matthew Huo, Corona, CA, shot a +10 (82) to finish in a tie for 42nd while Aaron "Dewey" Chang struggled a little with a +27 (99).
In the Girls Qualifier, Felicia "Fish" Chang shot +16 (88) to finish in 20th place while Katlyn Walski shot +28 (100).
Leeyen Peralta, finished with a +8 (44) for a tie for 5th place in the Kikkor Golf Classic @ Diamond Bar Golf Club, Diamond Bar, CA. Leeyen stumbled with two double bogey's but finished strong by playing one over par in her last four holes.
In JDL (Junior Developmental League), Mylan Hirata shot +17 (48) to finish in 9th place at the JDL @ David L. Baker Golf Course. Mylan's aunt played on the LPGA Tour.
At the General Old Spring Classic, Riverside, CA, Leeyen Peralta tied for first place in the Girls 9-11 group with a nine hole score of 42 (+6). Sherilyn Villanueva, shot 50 and finished in third place.